Home
>>
Products
>>
Other Grating
>> Galvanized Steel Bar Flooring
Galvanized Steel Bar Grating Flooring

Kingde offers two types of steel bar flooring according to surface treatment: Non-galvanized and Hot Dipped Galvanized Steel Bar Grating Floor Panels. Grating structures find wide applications in industrial flooring and sidewalks. The grating made of steel profiles has the advantages of economic,durability and pleasing to the eye.

Galvanized bar flooring with additional protection layer of zinc plating offers good corrosion resistance and alkaline resistance property and a longer service life compared with the non-galvanized panels.
Steel bar gratings are used to creat durable and cost efficient flooring for platforms,walkforms,walkways or stair treads in manufacturing, warehouse, plant and agricultural settings.

Three Common Specifications of Metal Steel Bar Grating Floor Panels:

Kingde offers grating floors with different loading ability. It fits for pedestrian deck, walkway and ditch covers which require high security.
Gratings with Bearing Bar centers at 30mm:
This steel grating is the most commonly used in projects with American, Australian, Japan standards are available. Bar gratings are featured well by heavy-duty, well resistance of strong impact on surface. Gratings with cross bar centers at 50mm can bear lateral impact well. This kind of steel grating fit for all kind of industrial platforms flooring.
Flooring Grates with Bearing Bar centers at 40mm:
This is light grating and very economical. Gratings fit for fixed platforms, walkway, and stair treads and British, German, French and Japanese standards are available. The products most commonly used for Belt corridor, storage shelf, Attic panel, trestle, guardrail, sunshade gate, etc.

Grating Floor Panels with Bearing bar centers at 60mm:
This steel grating floor is especially used for mining industries. It can solve the problem that mineral splashing down and stacks on the walkway. This product usually used for mineral miningand processing and it is the best choice for workshop, meeting room and suspended ceiling of stadium in terms of it's light weight.
Popular Steel Bar GrateFlooring Products We Offer as Following:


Welded Steel Grating;
Platform Flooring Galvanized Steel Bar Grating;
Hot Dipped Galvanized Steel Bar Floor Grating;
Heavy Duty Galvanized Serrated Mild Steel Bar Grate Flooring;
Serrated Bar Walkway Floor Grating
Welded Steel Galvanized Grating
Specification:
Size 3x20 Feet
Pitch: 1-3/16" x 4"
Type: 19-W-4.
Clamp: Grating c/w screw bolt and nuts, bolt length 60mm

Platform Floor Galvanized Steel Grating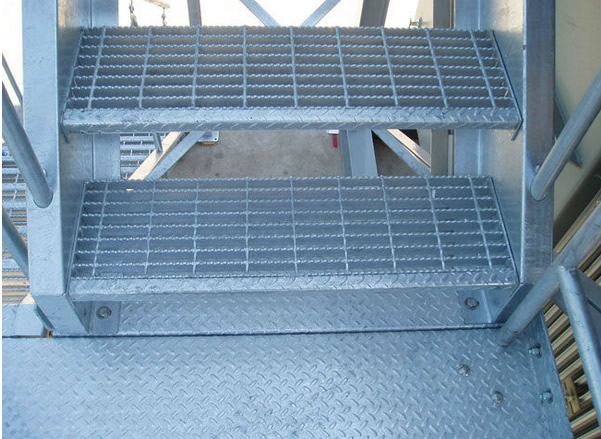 Material: Steel, Iron
Application: Steel Walkway and Floor
Technique: Welded
Color: Silver, Black
Grating type: Plain , serrated,i-bar-type
Grating Bar Type: Serrated bar, plain bar,etc

Hot Dipped Galvanized Steel Bar Floor Grating:
Specification
Steel Grating

Steel Grating is made of serrated bearing bar and cross rods.

 

Raw Material

Flat steel material Q235A,stainless steel the Bar Material Q235A,
or 304 stainless steel material for the bar, twisted square steel,square
or hexagonal steel

Grating Type

Plain Style Steel Grating, Serrated Style Steel Grating, Cross-section

Surface Treatment

Hot dipped Galvanized is the popular method, or as your demand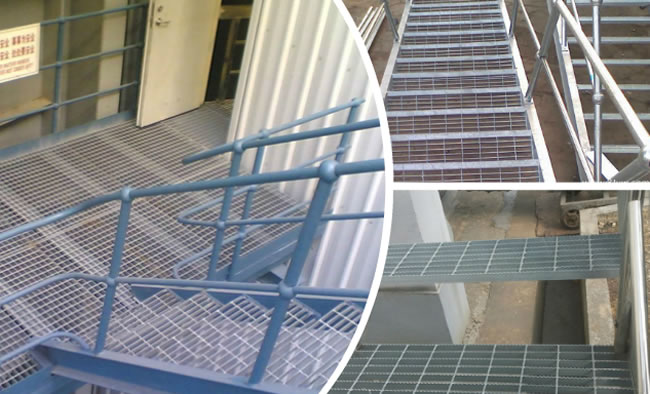 Heavy Duty Serrated Steel Gar Grate Flooring
Specifications

1.Bearing bar pitch:30,40,60mm 
2.Cross bar pitch;50,100mm 
3.Plain,Serrated,I-shape


Decking Floor Steel Grating

Hot galvanized trench cover/ hot galvanized steel grating
electro galvanized steel grating/untreated steel grating:
load bar:30x3mm,25x3mm, 30x4mm
load bar pitch:20mm, 30mm,40mm,50mm
cross bar:6mm,8mm
cross bar pitch:50mm,100mm


Non Slippery Serrated Bar Floor Grating Floors for Stair Treads
1.Material: Mild Steel (Low Carbon Steel)

2.Surface Treatment: Untreated, Painting or Hot dip Galvanizing
Bar Grating
Other Grating:
Anti-Slippery Treatment: