Home
>>
Products
>>
Bar Grating
>> Pressure Locked Steel Bar Grating
Pressure Locked Steel Bar Grating


Pressure Locked Metal Bar Grating is a system constructed of interlocking slotted bars bonded together using tremendous hydraulic pressue. The bars are positioned every 2 inch or 4 inch. Also known as press-locked bar grates. Permanent locking is achieved by forcing the deep cross bar into the bearing bar. Both the cross bars and the bearing bars provide walking surfaces in the press-locked design.

Pressure locked bar grate panels provide a smooth clean look ideal for architectural applications such as grilles, dividers and screens. It is used in the same structural applications as its welded steel and rectangular aluminum counterparts. Popular metal materials for press locked gratings are Aluminum alloy, Galvanized Steel and Stainless Steel. Stainless Steel and Aluminum Pressure Locked Gratings are mostly used architectural ceiling panels and decoration. Spacings range from 7/16" to 1-3/16".

Comparing of Pressure Locked Metal Grating with Welded Bar Grating:
Press-locked Steel Bar Grating exhibits the same strength, long life and openness as Welded Steel Grating, although it is not recommended for rolling loads. Instead of welding the joints applied for welded bar grating, however, tremendous hydraulic pressure is used to bond the two close-tolerance slotted bars together in processing of Pressure Locked Gratings.

Rectangular bar grating in either the swage-locked or press-locked styles offers good lateral stiffness. The rectangular bar is also available in a serrated surface for additional safety.
Manufacturing Process: slot (hole), plug the pressure lock, welding, finishing and other processes.
Features: High strength, corrosion resistant, maintenance-free, uniform precision, structural lightweight, beautiful, natural and harmonious, elegant style.
Applications: Press locked bar grating sheets are used in residential and commercial buildings, theaters, subways, suburban areas and other public works, ceiling, indoor and outdoor decoration, platform aisle, ventilation window (Wells), advertising plaque, all kinds of covers (cable trench, draining system) and so on.
We supply four categories pressure locked bar gratings according to sizes and structures:
1, Ordinary steel grating maximum working height of 100mm. Steel grating length is usually less than 2000mm. Ordinary bearer flat grooving, the rail steel molding pressure lock.
2, Steel grating height of not more than 100mm. Steel grating length is usually less than 2000mm. Integral bearing steel and rail steel having the same height as the bearer flat notch depth 1/2.
3, Sun steel grating, grating height is less than 100mm. Bearing steel open 30 ° or 45 ° chute, slotted rod steel slotted lock molding press. Depending on the distance required to hand over the other specifications of the grid plate, you can use ordinary carbon steel, stainless steel, aluminum and other materials.
4, Heavy-duty grating: high steel and flat steel crossbar bite each other, at 1200 tons of clamping pressure molding. Suitable for high bearing loads span occasion.


Popular Press Locked Grating Products for Various Applications:
 Press- Locked Steel Grid Grate Plate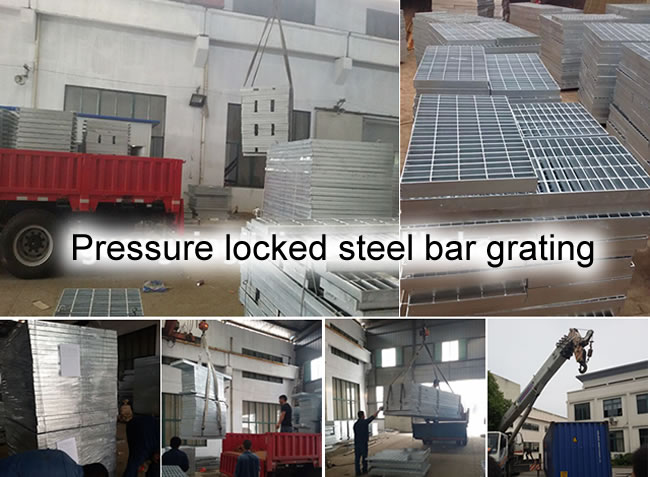 Welded Dovetail Pressure Locked Steel Grating Panels for Walkway Platforms



Hydraulic Pressure Locked Galvanized Bar Grating Cable Trench Covers

Material: Low carbon steel, flat steel.
Surface treatment: hot dipped galvanized ,electro galvanized or painted.
Bearing bar specification: 20(H)*5(Thick),25*5,25*3,32*5,32*5,40*5,40*3,50*5,65*5,75*6,100*8,100*10mm,etc.
Bearing bar pitch: 25mm,30mm,40mm,60mm,etc.
Cross bar pitch :50mm,100mm,etc.


Stainless Steel Grates Ceiling Panels for Architectural Decoration



Aluminum Alloy Floor Grating, Pressure Lock Type
Bar Grating
Other Grating:
Anti-Slippery Treatment: