Home
>>
Products
>> Checkered Plate Safety Floor
Checkered Plate Anti-Skidding Safety Step Flooring
The checkered plates products are widely used in all kinds of architecture and engineering structure, such as ship decking, corridor floor, passageway, stairway, warehouse flooring and other uses. When working with steel grating to form a flooring system, the perforated metal plates checkered with diamond patterns are designed for two specific uses. One is used as grating nosing for example container ship nosing, the other is used as top of grating flooring with improved anti-slippery property to ensure the step safeties.
Chequered plates are made of aluminum or galvanized steel materials. Aluminum checkered plate has light weight and anti-corrosion resistance, hence popularly used as skidding resisting floor plate. Also used in modern construction decoration of facade and walls.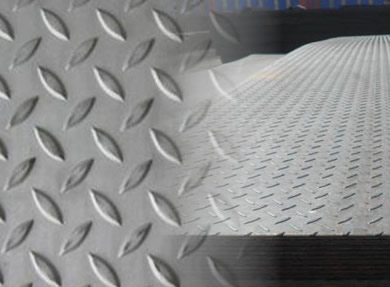 Diamond Aluminum Checkered Floor Plate:
1)Aluminum Alloy Grades: 1050. 1200, 1100,, 3003, 5052, 5754
2) Temper: H111, H112, O, H14, H24, H32
3) Thickness: 0.8mm to 10mm
4) Width: 100mm to 2300mm,  Length: up to 11 Meter,
5) Patterns: Two bar, three bar, Five bar and diamond plate
Application: Various flooring and tread plates for house, Industrial plant, Airplane, Laboratory, Infrastructure, Automobile floor, Stairs, Non-slip floor, Automobile stairs, Engineering stairs, etc.
Aluminum Checkered Plate Specifications with Alloy Grade, Thickness, Width and Technical Details
lloy
Thickness
Width
Tamper
standard
1070, 1060, 1145, 1050, 1100, 1235
0.2-150mm
500-2800mm
O,H12,H22,H14,H24,H16,H26,H18
GB/T3190-2008GB/T3880-2008
3A21, 3003, 3004
0.2-150mm
500-2800mm
O,H14,H24,H18
GB/T3190-2008GB/T3880-2008
5052, 5A02, 5005
0.2-150mm
500-2800mm
O,H12,H22,H32,H14,H24,H34,H16,H26,H36,H18,H38
GB/T3190-2008GB/T3880-2008
Tensile Strength:110 to 170 MPa
Elongation:>=2%
Package: Standard export sea-worthy package, kraft paper and wooden pallet or according to clien's requirement.
Bar Grating
Other Grating:
Anti-Slippery Treatment: