Bar Grating
Other Grating:
Anti-Slippery Treatment:
Safety Non-Slippery Metal Gratings


Kingde offers mild steel /galvanised, aluminum, stainless steel grates and sheet metals for industrial walkway, engineering projects, architectural and various applications. Plain or serrated bars are manufactured. The serrated surfaces improve grip and safety in numerous worker environments which assists in reducing valuable workforce downtime through possible injuries. Non-slip serrated gratings and stairtreads are supplied for slippery areas, or where safety is a consideration. A range of light to heavy duty gratings from screening to airport type applications are available.

Material Grade: ASTM A36, A1011, A569, Q235, S275JR, SS304, SS400, Mild steel & Low carbon steel, etc.
Surface Treatment: Black, self colour, hot dip galvanized, painted, spray coating
Grating Style: Plain / Smooth, Serrated /teeth, I bar, serrated I bar.
Standards We Follow in Manufacturing Metal Gratings:
China: YB/T 4001.1-2007, USA: ANSI/NAAMM(MBG531-88), UK: BS4592-1987, Australia: AS1657-1985, Germany: DIN24537-1-2006, Japan:JIS.

According to loading capacities, Kingde offers Three Types of Gratings:

Light duty bar grating for walkways.
Loading UDL 300kg/m²
Applied to maintenance Platforms, Catwalks, Conveyor Walkways, Restricted to one-person traffic.

Medium duty walkways
Loading UDL 500kg/m²
General Production Platforms, Restricted to regular two-way pedestrian traffic.

Heavy duty
For walkways Loading UDL 750kg/m²
General Production Platforms, High Density Pedestrian Traffic.

Applications Illustrations:

Grating Treads: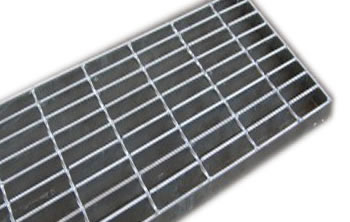 Metal Bar Walkway Decking:


Trench Covers:


Heavy Duty Safety Flooring Panels: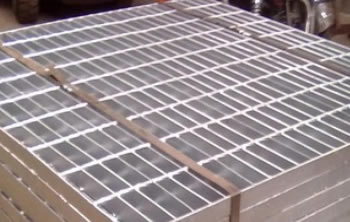 Popular Metal Grating Products:

Hot dipped galvanized cross bar steel grating
Bearing bar thickness (mm):3
Bearing bar width (mm):40
Cross bar diameter (mm):6
Bearing bar pitch/distance (mm):40
Cross bar pitch/distance (mm):100
Surface treatment: galvanized

Hot dipped galvanized plain steel bar grating