Bar Grating
Other Grating:
Anti-Slippery Treatment:
Aluminum Bar Grating Panels for Architecture and Construction Uses
Aluminum Grating Type: flat bar grates: plain type, plain I type, serrated type, serrated I type; cross bar grating: round type and square twisted type.
"SG" Swaged Rectangular Aluminum Grating
The most widely used aluminum grating, "SG" rectangular bar provides clean, crisp lines and the cross bar is fully locked within the bearing bar, slightly below the top surface.
"SGI" Swaged "I-Bar" Aluminum Grating
Manufactured with highly efficient, "SGI" aluminum grating carries the same load as 3/16" thick rectangular bar type "SG" aluminum grating, but weighs slightly less per square foot. Additionally, the striated top and bottom flanges of the "I" bar provide enhanced skid resistance without the cost of serration.
"SGF" Swaged Flush-Top Aluminum Grating
Manufactured with a unique, extruded cross bar that is flush with the top surface of the bearing bars after swaging, "SGF" aluminum grating provides an enhanced walking surface for areas subject to continuous pedestrian traffic.
"ADT" Aluminum Dovetail Pressure Locked Grating
The deep cross bars on type "ADT" gratings make them popular for architectural applications such as sun shades and infill panels with the deeper cross bar serving as architectural accent.
Uses:
Aluminum grate is non-rusting and light weight, it is commonly used as walkways, stair treads and platforms in construction of plants, ships, barges, also used as metal flooring in breweries, bottling plants, and food preparation and storage facilities. In munition plants, other volatile industries and areas, its non- sparking properties make it a must for safety. Recent uses include architectural decoration for example, facade, sunshade and metal cladding. Aluminum grating panels are available in standard or anodized finishes.
Popular Architectural Aluminum Bar Gratings:
Architectural Aluminum Grille Bar Gratings
Aluminum Platform Bar Grating
Swage-Locked Aluminum Bar Grating
Bar Serrated Aluminum Grating
Press Lock Aluminum Grating
Architectural Aluminum Grille Bar Gratings for Metal Facade and Cladding Panels
Features:
Light weight-easy to install and clean;
Nice appearance-high strength-ventilation and light can pass through;
Material saving-slip-resistant and safe;
Heavy loading and durable

Aluminum Platform Bar Grating: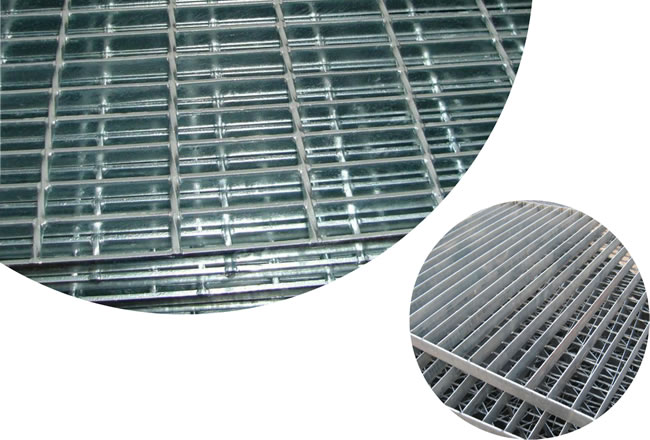 Swage-Locked Aluminum Bar Grating
There are three kinds of bar gratings, Plain Style bar Grating, Serrated Style Bar Grating and I Bar Type Bar Grating. They are widely used in steel structure platforms, stair treads, sidewalks, drainages and well covers etc. We can design and manufacture standard aluminum bar grating sheet and in customized shapes per client's requirements.
Flat size:20×3,25×3,25×5,30×3,30×4,30×5,32×3,32×5……45×5mm
Bearing bar pitch:12.5,15,20,25,30,35,40,50mm
Cross bar pitch:38,50,80,100mm
Material: Low carbon steel, stainless steel, aluminium
Surface treatment: Untreated, hot galvanized, painted
Standards:China: YB/T 4001.1-2007
USA: ANSI/NAAMM(MBG531-88)
UK: BS4592-1987
Australia: AS 1657-1985

Bar Serrated Aluminum Grating Floors
Feature: Easily Assembled, Waterproof
Application: Industrial platform, flooring and walkway, traffic.
Key word:water drain grate
Grating standard:ASTM A36, A1011, A569, Q235
Bearing bar spacing:15-30, 40, 60, 80, 90 mm etc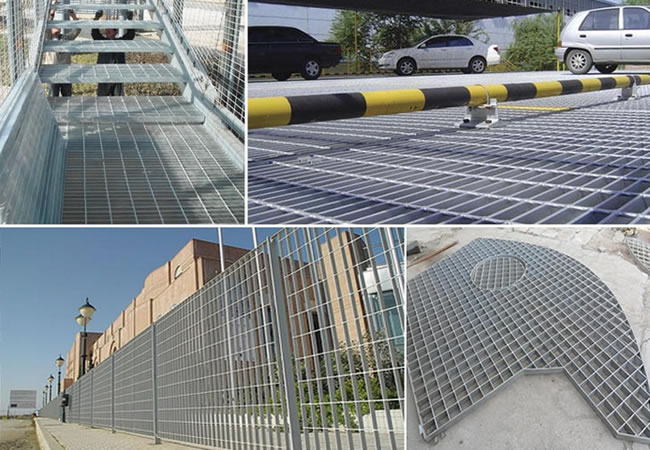 Press Lock Aluminum Grates:
Press-Locked Rectangular Bar Grating is constructed with the two close-tolerance slotted bars bonded together (positioned every 2" or 4") using tremendous hydraulic pressure. Permanent locking is achieved by forcing the deep cross bar into the bearing bar. Both the cross bars and the bearing bars provide walking surfaces in the press-locked design.
Specifications
1.Material:Aluminum Alloy 6063T6
2.Feature: Light weight, rust-proof, non-sparking, non-magnetic.
3.Types: Flat press-locked grating,Serrated press-locked grating
4.Surface Treatment:Clear Anodised,Mill Finish,Powder Coat.